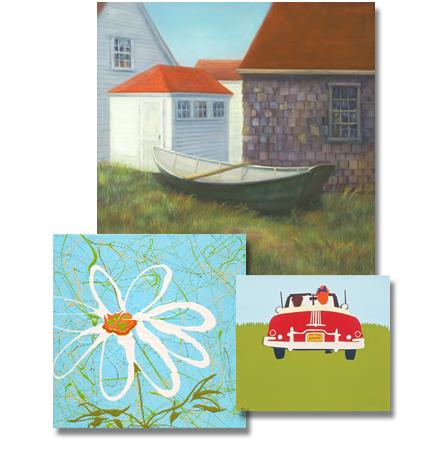 Award-winning artist, Margie Florini, works with unusual skill in many mediums. Florini's unique cut-paper collages and oil paintings are consciously executed to present the viewer with a personal story, mood, and sensitivity that can only be "Florini". Strong design is the foundation for each special piece.

"Clapboard houses, seaside gardens, and vintage cottages are her favorite subjects inspired by summers spent in Maine and on Cape Cod. Adirondack chairs, dories, and classic cars –'just the ones I'd like to have from the 40's and 50's' – are characters in her colorful visual stories. A number of Florini's pictures suggest moments of repose: a book left open on an armchair; a clothesline strung next to a salty old fishing boat; one illuminated window in an otherwise darkened farmhouse. She brings these quiet scenes vividly to life."

- Pam Tully Price for North Shore Living.
From 1999 to 2012, Margie Florini was an owner of the working studio/gallery Beach Street Studios in Manchester-by-the-Sea on the North Shore of Boston. The Beach Street Studios was created by three art partners "from the ground up" complete with marketing, accounting, website development, client and vendor relations and this has contributed to Florini's enthusiasm and creativity.
"To develop your technique, create work and find your voice as an artist is a very solitary life. It is not often that artists get opportunities to collaborate on a wide array of mediums and projects - to work in community. At Beach Street Studios, we worked together and gave other artists (2-D and 3-D) and musicians opportunities to work with us and it was always wonderful."
Florini continues to grow in her knowledge, experience and dedication to the Arts, as a patron and member of many art organizations, galleries and museums. Please see her resumé here. Or use this link to email Margie directly MFlorini@outlook.com