Previous events:
I am forever grateful for the opportunities to pursue my passion with paint, canvas, and paper; and for the collectors who, over the past 30 years, have appreciated and supported my works.

I had two partners at our Beach Street Studios, on Boston's North Shore, where we grew in our own artistic endeavors as we inspired, encouraged, and showcased the talents of other women artists, other musicians and artisans. To develop your technique, create work and find your voice as an artist is a very solitary life. It is not often that artists get opportunities to collaborate on a wide array of mediums and projects – to work in community. At Beach Street Studios, we worked together and gave other artists (2-D and 3-D) and musicians opportunities to work with us and it was always wonderful.

In 2017, my husband and I made the decision to downsize – I mean REALLY downsize – and after taking a year off to design and remodel a tiny bungalow, it was time to paint again.

My current home is small so I had to find a place to paint and create and now I am "flying solo" in my work place, Florini Fine Arts. This next chapter will be spent as my first decade: PCFSM!
• Painting series of work
• Cutting collage collections of works
• Finding new opportunities for creative collaboration
• Marketing
• Selling to the wider world and national shows

I will miss the laughing and lunches of collaborating artists and dear friends but I will, once again, know that this work, my work "is big and important and there's no one else anywhere on the planet who can fulfill it" to quote Chip Gaines from his book Capital Gaines.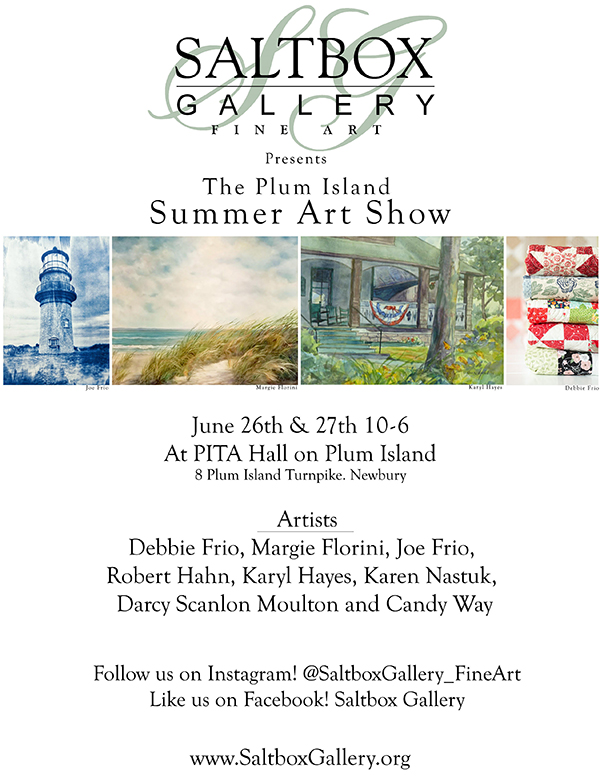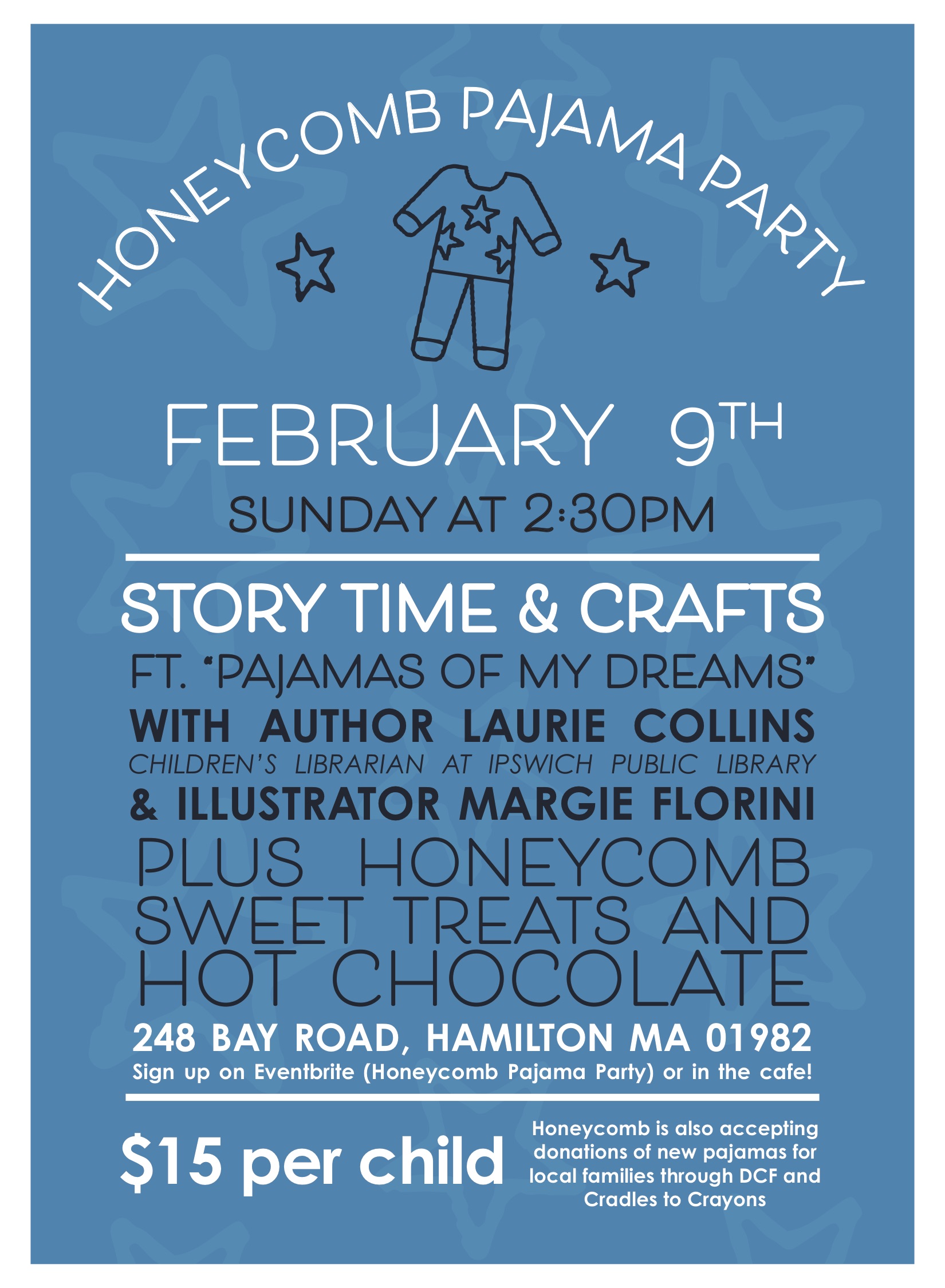 A New Studio: A New Chapter in the Life of an Artist.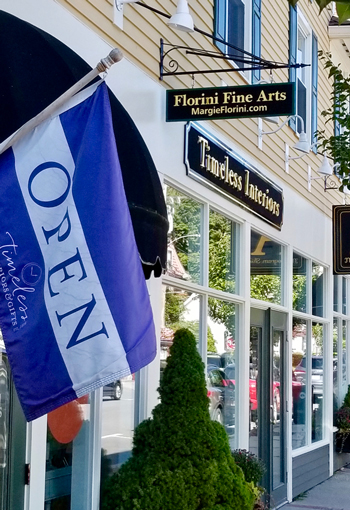 New Studio/Shop in TIMELESS INTERIORS & GIFTS

Off 1A, just one block down from my last creative "home" on Bay Road, I am now creating in the Design Center of the exceptional shop called, TIMELESS INTERIORS & GIFTS, 52 Railroad Avenue, Hamilton. While Leigh, Martha, Sue and Becky help you to choose your custom furniture, I will help you find that perfect painting and artwork to make your space sing!

I am forever grateful for my collectors (now friends) who have appreciated and supported my passion with paint, canvas and paper and I look forward to meeting and working with new clients as they design comfortable and beautiful living spaces with their families.

Watch for me on Facebook and Instagram and COME to my Studio. You may also call me or email me to enquire about future events or information on my work.
My warmest regards to you and yours!
Saltbox Gallery: Spring Art Show
April 5 - 7, 2019
Opening Reception Friday, 6 to 9pm; Friday, Saturday and Sunday 10 am to 5 pm

PITA Hall • 8 Plum Island Turnpike • Newbury, MA
Saltbox Gallery: ARTOBERFEST
October 19 - 21, 2018
Opening Friday, 5 to 9pm; Friday, Saturday and Sunday 10 am to 4 pm

PITA Hall • 8 Plum Island Turnpike • Newbury, MA
Win a signed copy of "The Pajamas Of My Dreams Goes To School" when you "Get Caught Reading". Send a photo to MassLiteracy.com to enter! Contest is until May 31!

"The Pajamas Of My Dreams Goes to NELA" Holiday Inn—Boxborough, 242 Adams Place, Boxborough, MA on October 19–21. New England Library Association will host a three–day conference about authors/speakers for library programs, as well as introducing self–published authors. Author Laurie Collins and Illustrator Margie Florini will share their own journey through self–publishing and why.

"Pajama Party" at The Beverly Public Library, 32 Essex St, Beverly, MA on Saturday, March 22nd at 10:00am. There is a sign–up for this event. Please call Kate Carpine at 978–921–6062 to sign up.

"The Pajamas Of My Dreams Goes to College" University of New Hampshire, 105 Main Street, Durham, NH on Wednesday, March 5. UNH and Early Childhood Education Program teachers and students will meet with Laurie Collins, Author and Margie Florini, Illustrator to discuss using their storybook as fun way to learn about altruism and caring at a young age. The children of the UNH Early Childhood Educators will have fun with Laurie and Margie and "The Pajamas of My Dreams"—creating cut–paper Dream Pages for pre–school aged participants.

"The Pajamas Of My Dreams Goes To School" Newbury Elementary Public School, 3 Hanover Street, Newbury, MA on Monday, March 3rd all day. For Read Across America Day, Author Laurie Collins will meet with Grades 5 and 6, and lead students in reading and discussions of the book and its message of hope. Illustrator Margie Florini will answer questions about "Why cut–paper?" and share the hands–on experience of "building their dreams" with paper collage projects.

Exhibit at The Beverly Public Library, 32 Essex St, Beverly, MA. March 1—30 Margie Florini, Illustrator of "The Pajamas Of My Dreams" will have a unique art exhibit called, "Why Cut–Paper?" – An Exhibit About the Illustration Process in The Sohier Room. Visitors can see and read about Florini's design journey through her sketches, mock–ups and proofs.

The New England Illustrators Exhibit 2014, a.k.a. Draw Me A Story hosted by The Wenham Museum, 132 Main Street, Wenham, MA. March 1—30&nbsp Illustrator Margie Florini will be exhibiting many of the original cut–paper collage illustrations from the book, "The Pajamas Of My Dreams". Florini will also have a few other illustrations and portfolios on display. All artwork will be on sale and much of the proceeds will benefit the Museum. Exhibit Opening Cocktail Party on Friday, March 7 from 6 to 8pm $10 donation requested to benefit Cape Ann Animal Aid. Sunday, March 23rd from 1 to 4pm is Family Day with a "Pajama Party", reception and cut–paper collage activity – a fun day for all!

Park Street Books, 504 Main Street, Medfield on Sunday, December 8th at 11:00am.
Peabody Institute Library, 15 Sylvan St, Danvers on Saturday, November 16th at 10:00am.
Barnes & Noble Booksellers, 210 Andover St, Peabody on Sunday, November 10th at 1:00pm. This event benefitted the Sterling Center YMCA Children's Room located in Beverly, MA.
The Harvard/MIT COOP, 1400 Massachusetts Ave, Cambridge on Saturday, November 9th at 11:00am.
The Beverly Public Library, 32 Essex St, Beverly on Saturday, November 2nd at 10:00am.