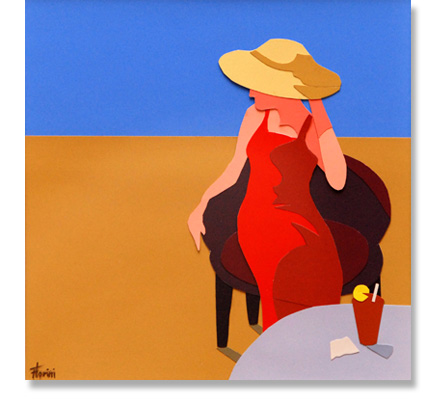 "Why cut-paper?" you might ask.
Working with paper, rather than paint or ink, is a way for me to "play in" the design phase of a project. I try to see and "feel" my subject's simple essence with the papers. Whole sections can be removed or added quite easily and color or pattern may change. The beautiful Color-Aid matte-finish design papers are placed side-by-side like a jigsaw puzzle, or are layered for a more 3-D effect. These papers are cut with exacto-blades and tiny embroidery scissors and assembled with special glues.
My cut-paper designs are fun, have clear color, hard edges, and a contemporary graphic art appeal. They are often commissioned and sold to companies and publishers for special projects.
In 2011, I was fortunate to have a children's bedtime story called The Pajamas Of My Dreams handed to me by Author Laurie Collins. I chose to illustrate this gentle message of need in cut-paper because it invited children and adults to quietly study each seemingly "simple" design. Laurie and I selected Three Bean Press Publishers in Jamaica Plain (Boston), Massachusetts to help us keep our book classic and beautiful. Eighteen months later, The Pajamas Of My Dreams was released to the public in late February 2013 to a wide and appreciative audience of readers – young and old.